Scandal on the South Side: The 1919 Chicago White Sox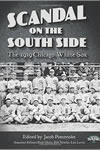 Order from:


Pub. Date: July, 2015
Society for American Baseball Research (SABR)
Paperback, 324pp
ISBN-13: 9781933599953
The Black Sox Scandal is a cold case, not a closed case.
When Eliot Asinof wrote his classic history about the fixing of the 1919 World Series, Eight Men Out, he told a dramatic story of undereducated and underpaid Chicago White Sox ballplayers, disgruntled by their low pay and poor treatment by team management, who fell prey to the wiles of double-crossing big-city gamblers offering them bribes to lose the World Series to the Cincinnati Reds. Shoeless Joe Jackson, Buck Weaver, Eddie Cicotte, and the other Black Sox players were all banned from organized baseball for life. But the real story is a lot more complex.
We now have access to crucial information that changes what we thought we knew about "baseball's darkest hour" - including rare film footage from that fateful fall classic, legal documents from the criminal and civil court proceedings, and accurate salary information for major-league players and teams. All of these new pieces to the Black Sox puzzle provide definitive answers to some old mysteries and raise other questions in their place.
However, the Black Sox Scandal isn't the only story worth telling about the 1919 Chicago White Sox. The team roster included three future Hall of Famers, a 20-year-old spitballer who would go on to win 300 games in the minor leagues, and even a batboy who later became a celebrity with the "Murderers' Row" New York Yankees in the 1920s.
All of their stories are included in Scandal on the South Side, which has full-life biographies on each of the 31 players who made an appearance for the White Sox in 1919, plus a comprehensive recap of Chicago's pennant-winning season, the tainted World Series, and the sordid aftermath.
This book isn't a rewriting of Eight Men Out, but it is the complete story of everyone associated with the 1919 Chicago White Sox. The Society for American Baseball Research invites you to learn more about the Black Sox Scandal and the infamous team at the center of it all.