2010 Update on Steve's Book 1921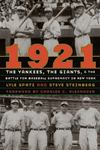 Steve's book on the 1921 season, coauthored by Lyle Spatz, 1921, The Yankees, the Giants, and the Battle for Baseball Supremacy in New York, will be available around April 1, 2010. It tells the story of the New York Yankees' first pennant and the first all-New York World Series, as Babe Ruth's Yankees faced off against John McGraw's New York Giants. Two great pennant races were followed by a thrilling World Series.
The book can be preordered from the University of Nebraska Press, as well as local bookstores and popular online book web sites.
Read why Bob Costas calls 1921 "one of the pivot points in baseball history" and why Frank Deford calls this book "a mosaic of a year in baseball that is both illuminating and entertaining."
Professor Charles C. Alexander, author of biographies of Ty Cobb, Rogers Hornsby, John McGraw, and Tris Speaker, has written the book's Foreword.