Play It Again: Baseball Experts on What Might Have Been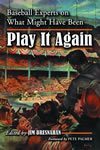 Order from:


Pub. Date: July, 2006
McFarland & Company, Incorporated Publishers
258pp
ISBN-13: 9780786425464
What if Ty Cobb and Shoeless Joe Jackson had stood side by side in Cleveland's outfield? What if integration had taken place in the major leagues before 1947? Who would have won the World Series had a strike not shortened the 1994 season? In this compilation of fantasy scenarios, the history of baseball from 1869 to the controversial 2003 playoffs is literally rewritten by fifty journalists, historians, authors and former baseball players. Topics include playing for pay, Merkle's Boner, rival leagues, the 1919 Series, Mickey Owens and the dropped strike, and integration.Chronologically organized, the experts take up the major events of each era and speculate on the long-and short-term outcomes had history followed a different, but still likely, course. The book concludes with an appendix in which the panel members hold forth on general-interest topics such as star-crossed players who might have gone on to Hall of Fame careers, the greatest big-game players, and World Series pairings.Broadcast journalist Jim Bresnahan is also the author of Revisioning the Civil War (2006). He lives in Lexington, Virginia.