The Genius of Hug
Click here to go to Miller's page in Baseball Personalities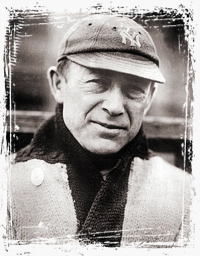 Miller Huggins managed the New York Yankees from 1918 until his premature death in 1929. 'Hug,' as he was affectionately known, led them to their first six pennants and three world championships, as he cemented the foundation of future Yankee greatness. Earlier he had a successful major league career for more than a decade (1904-1916) as a second baseman and five years as manager of the St. Louis Cardinals (1913-1917). He was elected to the Baseball Hall of Fame in 1964.
Huggins faced skepticism and ridicule as a ballplayer and early on as a manager, because of his small size and introspective personality. He succeeded at both, against great odds, because of his tenacity and his understanding of people. The Genius of Hug captures the spirit and wisdom of this man, the first successful leader of the New York Yankees and the first Yankee manager of Babe Ruth and Lou Gehrig.
In researching the Urban Shocker book, Steve Steinberg discovered Miller Huggins, his New York Yankee manager. The challenges Huggins faced and the results he achieved told a powerful story. As the president of a large retail company for more than a decade, Steve was able to recognize the management savvy and leadership skills of Miller Huggins.
From Attitude to Common Sense, from Motivation to Babe Ruth, here are Hug's words, as meaningful and relevant today as they were more than 70 years ago. From Managing to Patience, from Leadership to Winning, here are the words of those who knew Hug and recognized his greatness. Never far from his thoughts and actions was the game of baseball and- for 12 years- his New York Yankees.
Here is Baseball Hall of Famer Miller Huggins talking about everything from Competition and Fear to Teamwork and Luck. Here are those he competed with and against, talking about his Personality and his Skills as a Teacher. Here also is a book with his views on Baseball- on Hitting and Pitching, on Training and Trades.
From his minor league days in Minnesota to his playing career in Cincinnati and St. Louis, to his managerial career in St. Louis and New York, Miller Huggins comes alive in revealing images, many of which have never been published or last appeared decades ago. These photographs shed light on this man and the text. Here too is the commentary of the author, who gives a historical framework to the life and career of Miller Huggins.
Drawn from countless sources, including dozens of photo archives and newspapers of his time, The Genius of Hug is the first in-depth look at a man who had a lasting impact on baseball and the Yankees. It is a book of Inspiration and Leadership. It is also a book about Baseball and the New York Yankees.
Until Miller Huggins' arrival in 1918, the Yankees seemed jinxed as perpetual losers. By 1929, at the time of his premature death, he had set the Yankees on a winning course, with six pennants in the 1920s. They won with far more than money and power. They had the guidance, insight, and moxie of the Mighty Mite, this little man known as Hug. One hundred years after he began his career, it is time his influence is brought into the 21st century.
Click here to go to Miller's page in Baseball Personalities