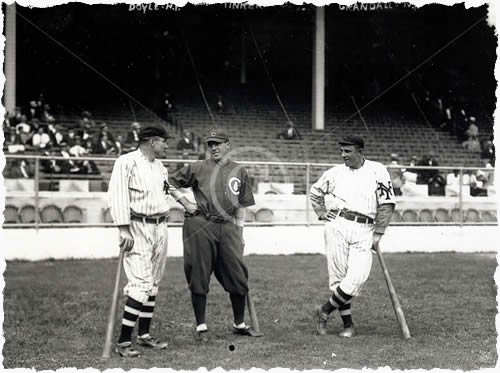 New York Giants Larry Doyle and Doc Crandall visit with Chicago Cubs shortstop Joe Tinker, just four years after their bitter pennant fight of 1908. That year, the famous Merkle game led to a one-game playoff, in which the Cubs beat Christy Mathewson and the Giants to advance to the World Series.
View larger photo
Photo Credit: Library of Congress, Prints and Photographs Division
Damon Runyon on Who's the Greatest Pitcher: Christy Mathewson, Grover Cleveland Alexander, or Walter Johnson?
Before Damon Runyon became a famous short story writer in the 1930s, he was a popular sportswriter with the New York American in the 'teens and 1920s. In 1915, Christy Mathewson of the New York Giants was nearing the end of his brilliant career. Two other hurlers had emerged as greats: Walter Johnson of the Washington Nationals and Grover Cleveland Alexander of the Philadelphia Phillies.
When their careers came to a close, they ranked in the top four pitchers in career wins and shutouts, where they still rank in the 21 st century. Here are the top four:
| | | |
| --- | --- | --- |
| Cy Young | 511 wins | 76 shutouts |
| Walter Johnson | 417 wins | 110 shutouts |
| Christy Mathewson | 373 wins | 79 shutouts |
| Grover Cleveland Alexander | 373 wins | 90 shutouts |
On April 24, 1915, Damon Runyon wrote of these three great pitchers. In 1915, Alexander and Johnson still had more than a decade of pitching ahead of them. Baseball author Jim Reisler has edited and published a collection of Runyon's baseball writing, Guys, Dolls, and Curve Balls, New York: Carroll and Graf, 2005.
Alexander vs. Johnson
Whenever we see Grover Cleveland Alexander pitching at top form, we conclude that he is the greatest right-handed pitcher in the land, and we cling to that conclusion until Walter Perry Johnson comes along with a line of his best pelting. Then we decide that Walter is the greatest, and we hold to that decision to the day that Alex reappears.
In short, our mind—probably none too stable at best—does a heap of vacillating between these Western wonders, and we are certain of only just one thing with respect to their ability—which is that it's either Grover or Walter who is the greatest right-hander. On Mondays it might be Alex; on Tuesdays, Walter—but it's one or the other so far as we are concerned.
This is merely a personal opinion to which you may not subscribe. You may think that Mathewson or Rudolph, or Bill James or Willie Doak is greatest, and we have no doubt that you can produce just as many arguments in support of your belief as we can offer in trying to bolster up our view, but it is our opinion that Johnson and Alexander today stand out head and shoulders above all the rest of the individual pitchers. [Note: Dick Rudolph and Bill James were stars of the 1914 champion Miracle Boston Braves. Bill Doak had a sensational 19-6 season with the St. Louis Cardinals in 1914.]
Not Yet Mathewson
We doubt if either of them will ever approach Mathewson when he was at his best, however, because we do not believe that either of them will ever make the study of their craft that Mathewson did. The Old Master will go down in baseball history as one of the greatest pitchers of all time, but neither Johnson nor Alexander has yet to make a place of that sort for himself in the memory of the game.
They are both great pitchers, but there have probably been many just as great—and there has been only one Mathewson. The oldest inhabitants of baseball rate the big Pennsylvanian right along with Radbourne [19 th century pitcher Hoss Radbourne, who also won more than 300 games]. Time is the big test of a pitcher, and in time Alexander or Johnson—or both—may prove as great as Mathewson, but that time is not yet.
For one thing, they have not had the opportunity. The mighty Mathewson was generally carrying a whole ball club on his back, and that ball club out in front, where it was most conspicuous. Time and time again it fell to him to fight the crucial battles of the big time outfit; to pitch the games on which hung the most important issues of the campaign, and he rarely failed.
Old Master Still Great
Even today you cannot count Mathewson wholly out when considering the question of the greatest pitcher in the country. In sagacity, in sheer mastery of his craft, he is probably still the greatest of them all; and it would be highly characteristic of the Old Master to bob up again this season with one of his best records, but he no longer possesses the physical strength that is behind the arms of the Kansas Cyclone and the Nebraska Thunderbolt. [Note: Mathewson finished 1915 with only an 8-14 record and would win only four more games after that.]
It happens that they have both been denied the glory that goes with a world's series. Both gained fame with clubs that have since figured to a greater or less extent in the battles for the pennants, but in the main Johnson and Alexander had to fight their fight back behind the cheering. They were the Ruckers of the right-handers, so to speak, while Matty was nearly always up where the shouting was loudest. [Note: Nap Rucker was Brooklyn's star pitcher since 1907 and had never been in the World Series. They would reach the Series the following year, Rucker's final season.]
Some fans are dreaming this year of seeing Alexander and Johnson as opponents in the first game of the 1915 world's series, but they are mostly Philadelphia and Washington fans who are having those dreams, and we doubt if the dreams will come true. It would be a grand sight, however, and it might help in solving the problem of which is greater—Johnson or Alexander. [Note: The Phillies were the surprise winners of the 1915 pennant, and Alexander did indeed start the first game of the Series. Johnson and Washington finally reached the World Series in 1924 and 1925, near the end of his career.]
Players Favor Alex
Ball players who have hit against both men—or rather those who haven't hit against them, for there is never much hitting against Walter or Grover—say that the Nebraskan is the better of the two. They say that he has as much "stuff," and knows how to use it better than Johnson.
In the matter of control last season they were about equal. Alexander passed seventy-six batsmen in forty-six games, while Johnson walked seventy-four in fifty-one pastimes. Alexander hit eleven, and Johnson nicked the same number. Walter cut loose fourteen wild pitches, and Alexander one. In point of average runs earned per nine inning game, Alexander shows up with 2.38, and Johnson with 1.71. [Note: Both men saw their earned run averages rise in the 1920s, the Lively Ball Era. Alexander finished with a career 2.56 e.r.a., and Johnson with a 2.17.]
Johnson had a much better club behind him last year than Alexander, and that undoubtedly helps a pitcher's showing in the figures, but then Johnson was a great pitcher with a bad club, even as Alexander was great last season with a bad club.
The Nebraskan has none of what you might call the pitching style that marks the work of Johnson, or at least the pitching style that is favored by most baseball men. He tends to a side-arm motion in his pitching, and there are scouts in baseball right now who will not give a side-arm pitcher a second glance. They marvel that Alexander can have any control at all with that motion. On the other hand, Johnson has all the prescribed baseball "stance" to his flinging.
Alex Most Graceful
As a matter of personal choice, however, we would rather watch Alexander work than Johnson. To us it seems that he has more natural grace in the box, despite that motion, than the big Washington propeller. There are mighty few pitchers who come under the head of things of beauty when they are working, but Alex is one of them.
Mathewson is another. Rucker is still another. Rube Marquard is a pitching picture, So is Ray Caldwell. Spit ballers, like Jeff Tesreau, for instance, and the underhanded species do not interest the audience as much as the others, though they may be pitching better ball.
Johnson Works Today
This afternoon the New York fans will probably have the opportunity of seeing Johnson, as he is about due to work a game against the Yanks. There was a time when the Yanks could beat the big fellow with some regularity, and that was back in the time of George Stallings, but they usually did it through Walter's catcher, Gabby Street, and the score was generally about 1 to 0.
Nowadays, with the club behind holding pennant aspirations, Johnson is about the hardest pitching proposition in the country, and no team entertains any great hope of victory when it stacks up against him. He is as hard as—well, say Alexander.