Who was Urban Shocker? Why is he Significant?
Urban Shocker was one of baseball's greatest pitchers in the 1920's. This mysterious man with the greatest name in the history of the game was one of the mainstays of the great New York Yankee teams of 1926 and 1927. His battle with heart disease at the height of his career led Mark Gallagher, the author of The Yankee Encyclopedia, to describe Urban as:
"Quite possibly the most courageous man in sports history.

Urban fought bravely in his last few years to play baseball and indeed for life itself."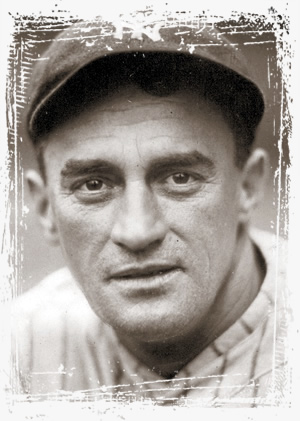 Urban was a spitball pitcher, one of a select group that was permitted to throw the pitch after it was banned in 1920. In the first five years of the Lively Ball Era, 1920-1924, when hitting was gaining the upper hand, he won more games than any other pitcher in baseball (107 wins). This despite the fact that he was a member of the usually weak St. Louis Browns, and that he missed about a month each of these seasons due to injury or suspension.
By 1926 he was suffering from heart valve disease that made it impossible for him to sleep lying down. The formerly stocky and powerful pitcher was losing many of his physical skills, yet he won thirty-seven games for the great New York Yankees of 1926-1927. He did so by using his brain, and his reputation as one of the most intelligent and crafty pitchers of all time was solidified. A year later the man whom respected sportswriter Fred Lieb called next to [Walter] Johnson, the outstanding American League pitcher of the last decade was dead.
Urban Shocker has been virtually forgotten since his death, even among baseball history aficionados. His story of courage and determination, as well as his accomplishments, are remarkable. It is a tale that has waited more than seventy years to be told. It is also a story of baseball's true golden age, the 1920's. Baseball was king in America back then; no other sport came close to its popularity. It is a story that is coming together in the soon-to-be-completed book, Urban Shocker: Silent Hero of Baseball's Golden Age.