Baseball Personalities - Robert Lee Hedges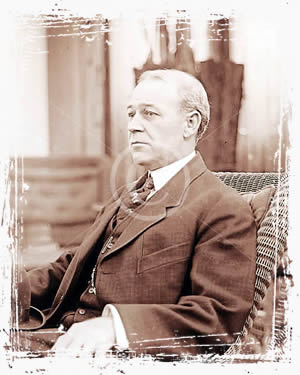 Photo Credit: Library of Congress, Prints and Photographs Division
Robert Lee Hedges was the forward-thinking owner of the St. Louis Browns, from their origin in 1902 (when they came close to winning the AL pennant) through 1915. He played key roles in settling baseball's two baseball wars, the American League-National League conflict of 1901-1902 and the Federal League-Organized Baseball conflict of 1914-1915. At the end of the former, he returned future pitching great Christy Mathewson (whom Hedges had signed in the summer of 1902) to the New York Giants.* At the end of the latter, he sold his Browns to the owner of the Federal Leagues' St. Louis Terriers, Phil Ball.
In 1913 Hedges hired Branch Rickey as his executive assistant and soon promoted the young lawyer to vice-president and manager of the Browns. Hedges's signing of college star George Sisler led to a controversy that hastened the end of baseball governing body, the National Commission. Hedges also spoke out about the dangers of rich clubs dominating the game.
* Steve wrote an award-winning article about the Mathewson St. Louis connection, which appeared in NINE: A Journal of Baseball History & Culture, Vo. 14, No. 2, Spring 2006.