Baseball Personalities - Babe Ruth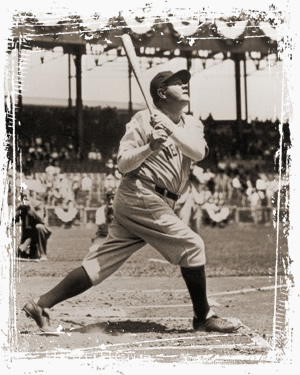 Photo Credit: Cleveland Public Library
Babe Ruth was a Hall-of-Fame caliber pitcher (an 89-46 record with a 2.28 earned run average) before he became a legendary home-run hitter. His sale by the Boston Red Sox to the Yankees in the winter of 1919-1920 was the signature event in the decline of the Red Sox and the rise of the Yankees. (The Red Sox won four pennants between 1912 and 1918, and won the World Series all four times. They would not win it again until 2004.) The Babe revolutionized the game with his home-run hitting and helped bring the Deadball Era (1901-1919) to a close and usher in what is known as the Lively Ball Era.
Babe Ruth hit 29 home runs for the Red Sox in 1919, a new record. But in his first two seasons in New York (1920-1921) he shattered that record with 54 and 59, respectively. He electrified fans everywhere and helped the game rebound from World War One and the Black Sox scandal.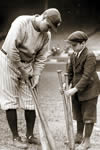 Enlarge
The Babe's popularity with the youth of America was enormous. He took a genuine interest in his young fans.